Better root development in strawberries with H2Flo
A recent UK trial has shown that mixing water with the conservation agent H2Flo, causes the water to penetrate the soil three times as deep as water alone, encouraging healthy root development in strawberry crops.
H2Flo enhances the lateral and vertical movement of water within soil, helping to reduce irrigation usage and water runoff.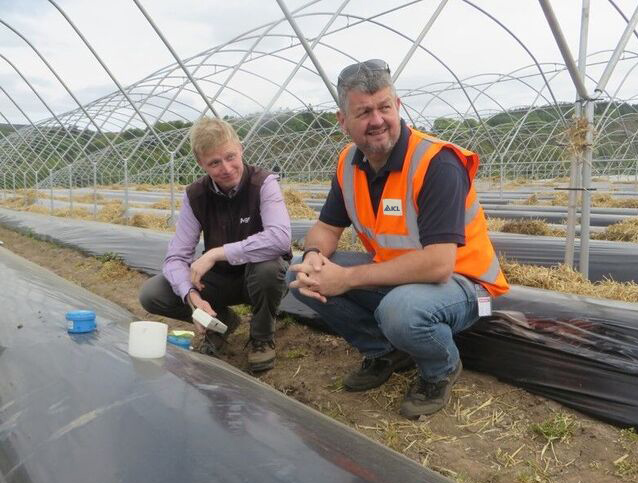 "By looking at data from moisture probes, we found that H2Flo moved the water down to 60 cm, and the plant was removing water from this level, which benefits the plant root growth," says Scot Garnett, ICL senior agronomist.
"Roots will only grow into an area if there is water there and plants can only take up nutrients in soil (soil water), so the greater the root mass the more nutrients and water are available to the crop," adds Scott.
The trials were conducted at Stewarts of Tayside, located in Perth, Scotland, during 2016. The product was tested on a 1.4ha plot for one season, and H2Flo was applied to table top strawberry crops, through a dripline in five treatments of differing application levels according to crop requirements, mixed with fertilisers.
Irek Wypasek, fruit manager for Stewarts of Tayside was impressed with the results. "We tested H2Flo against several other water surfactant products, and it proved to be the best product, as water was retained in shoulders of the growing soil bed for longer, so we didn't have to irrigate as often, saving us money.
"Overall I think that H2Flo is a brilliant product that can increase the productivity of our strawberry crops by reducing the irrigation cost and improving plant quality," said Mr Wypasek.
The study also showed that H2Flo promoted water retention for a longer period, meaning less water usage was required.
H2Flo is an unique blend of surfactants especially designed to move water and fertilizers quickly and efficiently through different types of soil.
The advances made in surfactant technology mean that this product leads the way in water conservation and provides growers and farmers with the most advanced wetting agents available.
The product can be applied as an initial wetter and also during the normal irrigation cycle where it will also aid the movement of fertilizers throughout the soil therefore balancing the EC levels. H2Flo also prevents the hardening of water repellent deposits.