Blockage-free irrigation with Nova PeKacid
Alkaline and hard irrigation waters are difficult to manage due to the high contents of bicarbonate, Ca and Mg, which easily create insoluble compounds causing blocking of the irrigation system. Insoluble Ca and Mg compounds will not be formed if pH of irrigation water is kept continuously on the acidic side. Therefore farmers are normally adding acids to irrigation water in order to reduce water pH. The same results can be achieved by using Nova PeKacid and no additional treatment with hazardous liquid acids is required any more.

Nova PeKacid provides acidity to neutralize and dissolve bicarbonates, and thus it avoids the problem of scaling and blocking of pipes and drippers in the sensitive drip irrigation systems. This has many benefits, like longer lifespan of irrigation systems, uniform and efficient distribution of irrigation water and fertilizers, less work and less hazardous liquid acids.

Nova PeKacid 0-60-20 is a highly acidic (pH = 2.2), fully soluble phosphorus (60%P2O5) and potassium (20%K2O) fertilizer formulated for fertigation applications with high bicarbonate content of irrigation waters.

Nova PeKacid is a solid acid in dry form, combining the advantages and efficiency of phosphoric acid with the ease and safety of handling a solid crystalline fertilizer. Nova Pekacid is recommended to be used for soil-less as well as for open-field fertigation applications, and is well-suited for use in blended or fully soluble fertilizers as a tool for incorporating Calcium, Magnesium and micronutrients into the mixed fertilizers.

Due to its acidic nature, Nova Pekacid has an anti-blocking action and enhances nutrients' uptake. It's a very efficient acidifier – its bicarbonate (HCO3-) neutralization power is 240, meaning that a dose of 1 kg of Nova PeKacid can eliminate 240 g of HCO3- and will supply also 600 g of P2O5 and 200 g of K2O.
How can Nova PeKacid be used to open blocked drippers in a fertigation system?
To open blocked dri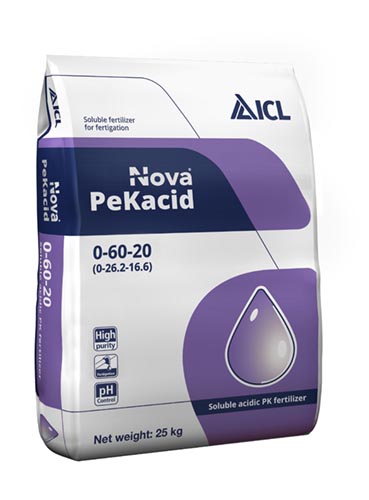 ppers using PeKacid, please follow the instructions below:
Example: Use 5 kg of Nova PeKacid for every m3 of water
Calculate the flow rate per hour of your plot
The time needed to apply the Nova PeKacid is 15 minutes
Calculate the water quantity that the plot gets in 15 minutes
Flow rate is 6 m3 per hour
5 m3 (6 x 0.25) pass in 15 minutes
5 kg of Nova PeKacid x 1.5 m3=7.5 kg
5 kg of Nova PeKacid is needed per 15 minutes to open the dripper in this example
Benefits of Nova PeKacid

High P and K analysis
100% water-soluble
High solubility (670 g/liter H2O at 20 °C)
Strong acidifying power (240 grams of Nova PeKacid will redact 1 mmol or 61 g/liter of HCO3)
Free of chloride and sodium
In powder form, so safe to use
Nova PeKacid can be mixed with Ca and Mg
Double effect of Nova PeKacid; nutrient supply is available from the phosphate ions (H2PO4) and due to the acidifying effect Nova PeKacid prevents the fixation of those ions in the fertigated area
Prevents clogging of the pipes and the drippers
Extensive field trials conducted with Nova PeKacid show a dramatic increase in nutrients levels and dripper flow.
Detailed trials results:
Increased phosphorus level
Phosphorus levels in soils (ppm)

Plot 1

Plot 2

Depth

0-20 cm

20-40 cm

0-20 cm

20-40 cm

Before Nova PeKacid

4.1

19.5

3.5

2.7

After Nova PeKacid

97.2

53.3

14.7

11.3
The results show a sharp rise in phosphorus levels in the soil after switching to Nova PeKacid
Increased dripper flow rates
Dripper flow rates (l/hour) PLOT 1

Before Nova PeKacid

3.4

0.9

1.9

4.0

4.1

2.5

After Nova PeKacid

3.9

3.7

3.0

4.0

4.0

3.9

Dripper flow rates (l/hour) PLOT 2

Before Nova PeKacid

0.2

1.7

3.9

3.9

2.9

1.9

After Nova PeKacid

1.5

3.0

3.9

3.9

3.0

4.0
The results indicate that Nova PeKacid cleared the blocked drippers, restoring most of them to the nominal flow rate of 4 l/h, specified by the manufacturer.
Cristian Filote
International Technical Manager SpecAg
ICL Specialty Fertilizers