Osmocote 5 Stories: Rhododendron cuttings in Germany
Meet the next generation of controlled-release fertilizers: Osmocote 5. The future of stronger and healthier plants is hidden in each of its small granules. With ingenious OTEA-system and brand new NutriMatch-Release technology growers get access to an advanced level of fertilizers, offering exceptional plant health and leaf color. The past year, we have asked customers from all over the world to test the impact of Osmocote 5. In a series of customer stories, we'd like to share the outcome of the very first trials. These are our customer's experiences.
Jörn Schröder is Production Manager of the nursery Timo Schröder in Northwest Germany. The nursery produces Rhododendrons and young Azaleas in large numbers. Jörn: "We offer rooted cuttings, pricked once and, if desired, pinched in cm plates or as semi-finished products in various sizes in 1 or 1.5 liter pots. The propagation of the plants takes place exclusively through cuttings and grafts from our own mother plant nursery (approx. 12 ha)."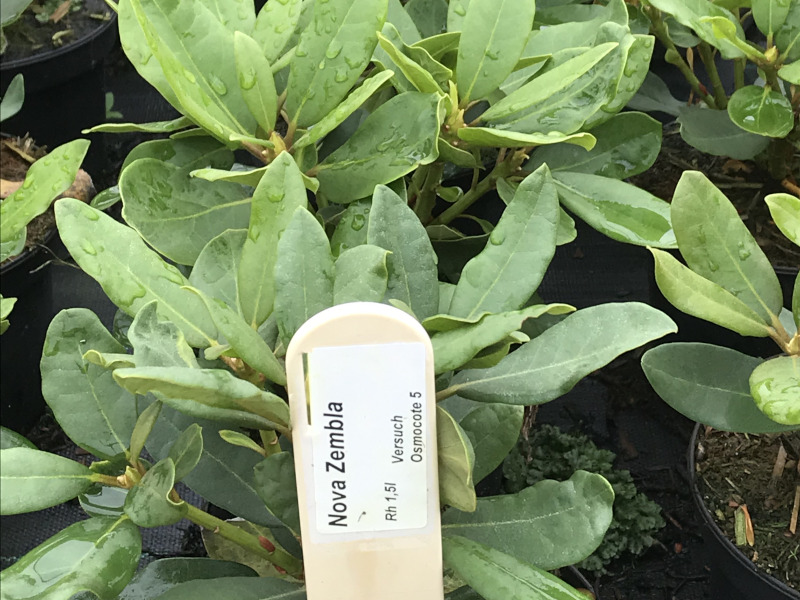 The propagation and further cultivation of the Rhododendron cuttings and grafting into semi-finished goods takes place in approx. 8 hectares of greenhouse space. After the goods have hardened and sorted, the healthy and strong young plants are delivered to the companies that continue the production.
The quality of the young plants is very important to the customers of Timo Schröder nursery. This is the reason why there is particular emphasis on a uniform and stable cultivation during the production. Optimal supply of nutrients and trace elements play a key role in the successful production and reproduction of the nursery's products. Jörn: "In the last few years we have mainly worked with Osmocote Exact Standard and this year we used Osmocote Exact Hi.End. These products guarantee the (controlled) supply of nutrients, even under exceptional weather conditions. We are curious to work with successor Osmocote 5. The earlier we can test it the better!"
"The reliability of the release of nutrients and the uniformity in the plants' development are essential for us. We trust that Osmocote 5 and other new ICL developments will continue to meet our demands."
Osmocote 5: Grower's experiences
Earlier this year Rhododendron cuttings were potted into the growing medium with 1,6 kg/m3 Osmocote Exact Hi.End 8-9 months and 1,6 kg/m3 Osmocote Exact Hi.End 12-14 months. The same rates and longevities were applied with Osmocote 5. After approx. 6 months there were two additions of Universol Soft Water water soluble fertilizer. Jörn: "The young Rhododendron plants showed no differences in growth, habit or coloration of the plants. Since both Osmocote Exact Hi.End and Osmocote 5 supplied our plants with sufficient nutrients toward the end of the cultivation period, we could reduce the liquid fertilization to the bare minimum. We have achieved great results with Hi.End and we are confident we will continue our high quality production with Osmocote 5. The fact that Osmocote 5 has only one coating instead of two is an advantage. The reliability of the release of nutrients and the uniformity in the plants' development are essential for us. We know that Osmocote 5 and other new ICL developments will continue to meet our demands."
Learn more about Osmocote 5